From traditional to STO, ICO and IEO
Funding is an integral part of any startups' journey, not only for getting projects off the ground but also for expansion. Over the last few years, funding in the Blockchain and Cryptocurrency industry has experienced the coming and going of a number of trends.
For instance, the ICOs peaked in 2017, with trends continuing on to the end of 2018. As the craze for ICOs was dying down, VCs were seen investing both in ICOs and traditional methods such as equity.
Many believed that 2019 was the year of the IEOs, while others believed that STOs would have dominated. In short, neither took off as expected or anywhere near the ICO boom that we saw. There's often much misinformation and misunderstanding when it comes to the Blockchain and Crypto markets – especially investments.
Mentioning at the outset that 2019 has been a year of mixed responses, I will discuss some of its major trends of funding in the Blockchain and Cryptocurrency industry. In doing so, I would look into the various methods available, including traditional VC funding, ICO, STO, and IEO.
That said, let's dive in.
Traditional VC funding is scarce
Especially last year, VCs were highly enthused about most things in the Blockchain industry. And, this is with regard to traditional venture capital funding, which do not include the funds they pumped into ICOs.
Until Q3 of 2019 there has been a significant downward curve in the number of dollars generated through this method of funding. While the market cap was $4.65 billion in 2018, it now stands halved, at $2.03 billion.
Obviously, the number of actual deals struck in return of this value has also fallen. As opposed to 1148 last year, only 445 blockchain or crypto initiatives have received traditional VC funding to date in 2019.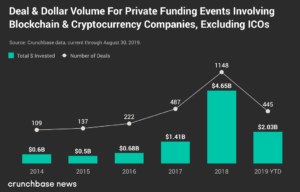 As noted by Crunchbase, major VCs such as Andreesen Horowitz have merely invested in 5 projects this year, with total investments as low as $75 million. Last year they participated in 14 deals with a combined value of almost $850 million. Others, such as Digital Currency Group and Blockchain Capital have also largely cut down on investments in the industry.
Yet despite all, there have been a few major VC investments in Blockchain projects this year. These include the $323 million in Robinhood's Series E, $200 million in Bithumb's Series A, and a $100 million Series C for Kraken.
That's traditional VC funding. What about the others funding methods? Have they equally slowed down, making 2019 a flop year overall? Let's see.
ICO's have lost their luster
In their heydays of 2017, ICO amounted for as high as $6 billion invested in 875 projects. But then, investors began suffering huge losses to scams, and ICO's reputation took a serious blow. Yet, the good times for ICOs continued till later in 2018.
This year, however, investments in ICOs have been quite low. In fact, this has been true for the last four quarters, when VCs have often outnumbered them.
As of Q3 2019, there have been only 84 ICOs, the total valuation for which stands at $350 million. Combining ICOs with other private funding methods, investments in the industry stand at $3.38 billion, spread across 472 deals.
Of these, some of the major ICOs of 2019 include the $60 million raised by Algorand and alongside the $80 million by Tron Game Global.
So, as we can well see, ICOs are slowly fading away. At least, that is how it seems for this year. And, if you wonder, why is it so?
Although there are multiple factors at work, two are the most crucial and they are very much related. Blatantly put, ICOs turned rogue in the utter absence of regulations. Consequently, the SEC and other jurisdictions stepped in and beefed up the regulations, classifying ICOs as securities. As one thing led to the other, some investors quitted the scene out of security concerns. Also, the number of projects went down significantly. At the same time as the U.S., China, and others clamped down, some jurisdictions like Malta and Japan set up ICO regulation, but it was too late for the market. The damage was done.
The fact remains, however, that the SEC regulations ushered the possibilities of a new era for funding in the Blockchain and Cryptocurrency industry. The era of STOs and IEOs, though they are yet to experience a strong wind in their sails.

STO and IEO – Are these the future?
Contrary to popular belief in the industry, STOs and IEOs haven't "boomed" this year. Yet, there has been a substantial trend in favor of these new, apparently more secure methods of funding into Blockchain ventures.
Early this year, Binance Launchpad hosted the first-ever IEO for BitTorrent, in which they offered 59.4 billion tokens, and had a hardcap of $7.20 million. Apart from this, there have been yet other successful IEOs launched this year.
In their year-long sale, for instance, Liquidapps have raised $2.8 million so far. Some organizations, such as Roobee, have been raising funds in installments, and on multiple platforms. In June, they hosted they launched two token offerings on Bitforex and Exmo which raised about $5.5 million.
Now, coming to STOs, the year has been great in terms of activity. Recently, Harbor has announced its plans to tokenize $100 million's worth of real estate assets. Also, the funding, both globally and in the USA, have started moving.
According to the Global STO Study by Blockstate, 51% of a total of 124 STO launched this year have been completed, raising more than $950 million globally. Nation-wise, 6 of the top 10 players have been European. However, the US leads globally with 34 projects raising more than $550 million. Also, with more than 50 STOs launched, the finance sector leads the global tally.
Most of these STOs, about 94%, were hosted on Ethereum's platform, while NEO and Stellar had 1% each. In terms of the asset class, a majority of these offerings involved the company's equity account for 75% of all. Apart from that, 15% were asset-backed and the remaining 10% were debts.
Together, these emerging methods of funding in the Blockchain and Cryptocurrency industry have raised about $1.5 billion in 2019 YTD. Of this, the majority share goes to the IEOs, primarily due to the fact that they offer greater ease of action over launching an STO because of investor skepticism, no secondary market and liquidity, and less regulatory barriers to face.
Conclusion
As of now, ICOs appear to be dying out. Interestingly enough, VC funding into blockchain and crypto ventures have outplayed not only ICOs this year, for three quarters straight, if not more.
VC funding has expressed a serious drop in performance as compared to previous years, especially 2018. In fact, with the overall market cap placed below half of the peak trends of 2017-18, investments in the space do seem rather bleak this year.
That said, it must also be noted that the figures for this year, aren't absolutely disheartening if we consider the nascency involved in the industry. Rather, they seem bleak because of the somewhat unnatural highs that we experienced in the previous years.
Moreover, while ICOs and VCs are lacking strength, there is a substantial interest in alternative methods such as STOs and IEOs. Although they aren't yet the major players in the scene, there is a good amount of interest and activity in this regard.
In all, it is worthwhile to conclude with the statement that the industry is now slowly becoming more real and mature, and the apparent lows that we are experiencing this year are in fact, the reality checks for the blockchain and crypto ecosystem.